Sky High Drug Prices Threaten Americans Nationwide
Medication drug prices have been a widely debated political issue for years. Some people believe that healthcare and medication costs need to be high for the economy, but how high is too high? Prescription drug prices in the United States are 256% higher than the prices in 32 other countries. Brand name drugs are even more expensive, landing at around 3.44 times (344%) higher than the other countries. In fact, Americans spend an average of $1200 on medications per year. 
So why is the U.S. forcing its citizens to pay more than other countries have to? Most other nations, including Europe and the United Kingdom, regulate their medicine prices. However, the U.S. does not. Europe's government, which consists of the second-largest pharmaceutical market after the U.S., negotiates with drugmakers in order to limit what their health systems pay. But in the United States, drugmakers can relatively set prices at whatever price they want.
Thomas Miller, senior counsel and FDA and Life Science Lead, at Nixon Gwilt Law in Washington, D.C., told Healthline, "The health insurance system in the U.S. is so entirely different than in any other developed nation." Miller continues to explain why this is by stating, "There are three reasons that prescription drug costs are higher in the U.S. than in other countries. One, we have a multi-payer insurance system with several intervening entities each taking a margin; two, the government does not set ceiling prices [the highest price that something can be sold at] in the U.S. as they do in other countries; and three, marketing exclusivity periods for patented innovator drugs."
A multi-payer insurance system is a system where multiple entities, such as insurance companies and the government, can collect and pay for the service. This can lead to higher and more spread out or opposing prices, which in turn results in some people being left without insurance. Other countries such as Canada use universal healthcare, where everyone has access to health services. 
The United States is known for its health care to be much more expensive than any other nation. The U.S. spends nearly twice as much on healthcare than the average country, at around 16.9% of Gross Domestic Product, yet still has the lowest life expectancy among the 11 nations. According to the Common Wealth Fund, compared to peer nations, the U.S. has among the highest number of hospitalizations from preventable causes and the highest rate of avoidable deaths. Could this be because of unaffordable medication costs?
Americans pay the most on health insurance than most other countries, but also pay the most out of pocket healthcare costs as well on expenses such as doctor visit copayments and of course, prescription drugs. Only Swiss residents pay more than Americans for these costs. The primary price divider between U.S. prescription drugs and other countries is the price of brand-name drugs, which are widely advertised to "save lives." Although generic name drugs are in fact cheaper in the U.S., they only make up 12 percent of total pharmaceutical drug spending. These drugs are not what most people can use for intense diseases or sicknesses.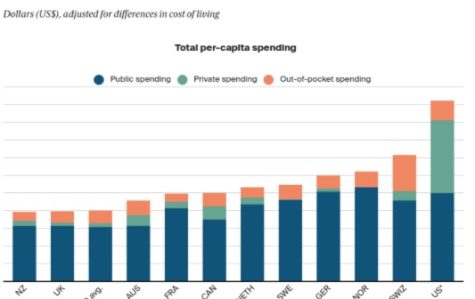 Healthline gives us some insight into how much more the U.S. is charging for these brand-name drugs than other countries. Abilify, which is used to treat mood disorders such as schizophrenia, bipolar disorder, depression, and Tourette's syndrome, costs $34 per pill
 in America as opposed to $5 per pill in Canada. Flovent, an asthma drug, costs $781 in America and only $152 in the United Kingdom, Australia, and New Zealand.
Bernie Sanders, United States Senator, and former presidential candidate is a democratic socialist who supports expanding and improving America's current healthcare system and states on his political website that he wants to, "Stop the pharmaceutical industry from ripping off the American people by making sure that no one in America pays over $200 a year for the medicine they need by capping when Americans pay for prescription drugs under Medicare for all."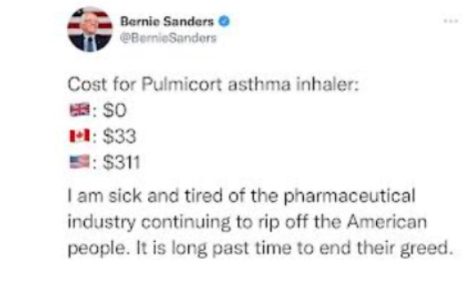 Sanders also provides prescription price comparisons on his social media accounts. One example is a Pulmicort asthma inhaler, which is free in the United Kingdom, $33 in Canada and $311 in the U.S. Sanders posts these examples in order to get his point across that the United States needs to fix its healthcare system and decrease its drug prices.
Those who cannot afford to pay for insurance or for the medication that they need are often forced to suffer without it.
The Mayo Clinic website shares a sad story of one of these people. Alec Smith, who was diagnosed with Type 1 Diabetes at age 23, was forced to be removed from his mother's insurance plan at 26 years old. He had a job as a restaurant manager, but at his young age he could not provide the money his insurance was asking for; a $7600 deductible and a monthly premium of $440. Because Smith did not have this money, he was forced to live without insurance and pay for his insulin with cash. Smith attempted to ration how much insulin he was taking in order to save up for insurance. In 2017, just three years after his diagnosis, Alec Smith was found dead due to Diabetic Ketoacidosis, which is caused by not having enough insulin. Insulin costs ten times more in America than it does in any other developed country. Alec's life, along with so many other people who have either died due to not being able to afford medication or have had to live their life suffering because of it, could have been saved if our country had lower prescription drug prices.
Former U.S. President Donald Trump and current President Joe Biden both agreed that drug prices needed to be lowered and have declined to continue to allow the government to directly negotiate these prices. Biden also supports setting limits on price increases for certain drugs. Efforts are being made into solving this issue. According to Bloomberg, "Outrage at drugmakers has been building in the U.S. Lawmakers have opened probes into how prices are set, and the Justice Department is investigating possible price collusion by more than a dozen companies that make generic drugs."
In the end, the country's current healthcare system is most at fault for allowing these prices to rise so much. In order to actually lower the prices, the U.S. will need to take more control over drug manufacturing companies and will need to set ceiling prices for the medications like other countries are doing. 
America's current healthcare system that allows for these absurd drug prices cannot continue to go on. The U.S. is killing its own people because of their need for money. If other countries can survive with low medication prices, so can we. The United States cannot be the number one country in the world if its own people cannot afford to live. 
Works Cited
Bloomberg.com
, Bloomberg, https://www.bloomberg.com/quicktake/drug-prices. 
Curley, Christopher. "U.S. Prescription Drug Prices Are Twice as High."
Healthline
, Healthline Media, 3 Feb. 2021, https://www.healthline.com/health-news/prescription-drug-prices-in-the-u-s-are-twice-as-high-heres-why. 
Define_me
, https://www.mayoclinicproceedings.org/article/S0025-6196(19)31008-0/fulltext. 
Doheny, Kathleen. "U.S. Drug Prices Much Higher than in Other Nations."
WebMD
, WebMD, 29 Jan. 2021, https://www.webmd.com/health-insurance/news/20210129/us-drug-prices-much-higher-than-in-other-nations. 
Mulcahy, Andrew W. "Prescription Drug Prices in the United States Are 2.56 Times Those in Other Countries."
RAND Corporation
, 28 Jan. 2021, https://www.rand.org/news/press/2021/01/28.html. 
"U.S. Health Care from a Global Perspective, 2019: Higher Spending, Worse Outcomes?"
U.S. Health Care from a Global Perspective, 2019 | Commonwealth Fund
, https://www.commonwealthfund.org/publications/issue-briefs/2020/jan/us-health-care-global-perspective-2019.