Ryan Leaf Talks Overcoming Addiction
Aiden, Staff Writer
October 24, 2019
During his brief time in the limelight, he was the #2 pick in the NFL draft, just behind Peyton Manning. Now, former collegiate and NFL quarterback Ryan David Leaf serves as an advocate for those struggling with mental illness and substance abuse.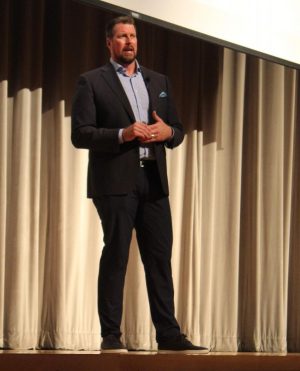 Leaf travels to communities across the United States, inspiring audiences with his humor, humility, and sincerity in sharing his journey from famed NFL star to prison inmate to recovering opioid addict.
He speaks primarily on the dangers of the societal stigma surrounding mental health and addiction, as well as the strength in reaching out for help, and challenges others to do the same.
"Today I try to use that nightmare to benefit others… My life's purpose was clear when I just looked for help," Leaf said. "I defy you to be of service to another human being today and to have your most peaceful night's sleep. [Helping others] has become my new drug of choice, essentially."
This September 24th, he took center stage as the keynote speaker for Penn Foundation's annual Autumn Event fundraiser. "Their values match with mine," he explained. "They're about servicing the community in a positive and healthy way."
The night opened with the release of Penn Foundation's powerful video response to the opioid epidemic, highlighting the severity of the crisis, addressing the most common misconceptions about it, and encouraging viewers to think of addiction as a disease rather than a choice.
They call for the elimination of stigma surrounding substance use disorders, allowing more room for addicts to seek help and eventually recover. Society as a whole has a specific image of what they believe addicts to be: sickly, skittish, thin males with behavioral problems– violent criminals, disoriented hippie-types or "degenerates."
In reality, this could not be farther from the truth. The majority of those with opioid use disorder are really everyday people who, like Leaf, developed their addictions after growing dependent on prescribed pain medication. They abuse drugs in order to "self-medicate" or cope with the overwhelming amount of stress in their lives.
"This is not somebody who was raised poorly or made a bunch of bad judgments." According to Dr. Valerie Arkoosh, "What's so important about fighting this disease is removing the stigma."
Following the video, Leaf delivered an impassioned speech recounting his own experiences as a recovering opioid addict. Football had always been his passion growing up but he cracked under the intense pressure of playing at an elite level. To quell the emotional pain, he turned to Vicodin.
In 2012, Leaf was arrested and sentenced to 32 months in prison on charges of burglary, theft, and illegal drug possession. His recovery began, slowly but surely, with teaching fellow inmates how to read.
"The foundation of [my] change had to be rooted in the service of others," he said.
Since his release, Leaf has shared his story with as many people as possible in an effort to inspire those who need it. However, he makes a point to deliver his message with the utmost humility.
"All of this has nothing to do with me and everything to do with the individual who still struggles… This room could have been filled by one person and it would've been good enough."