November Students of the Month
Emma, Staff Writer
December 17, 2019
November remains a month for Quakertown High School, pep rallies, sports banquets, and college acceptances were the commotion of the month. Fortunately, students continue to uphold the high standards despite the busy months. Recognition for this resilience, hard work, and  continued effort comes from the student of the month program, where teachers nominate the students they feel best fit these descriptors. This month, students Amoria Riendeau, Aidan Jarrett, Erin Miller, and Ian Cummings were recognized. 
Freshman nominee Amoria Riendeau, involves herself in various branches of the school. Involvement in the arts program ranges from theater to choir. This year Amoria held a role in the fall play, Almost Maine. She played Rhonda and performed on opening night alongside a cast of 20. In addition to her arts involvement, Amoria plans to participate in the American Sign Language Club once it is underway. Amoria has not been in the building for long however, she remains optimistic about her high school career. When asked about high school, she said, "I am extremely excited" continued by, "different programs and activities have the capability to shape my future and who I am." Future plans for her include college for either therapy or a program for the arts.  Amoria most enjoys World Cultures and Geography with Mr. Laboski, the teacher who nominated her. Her ideal schooling environment would include more students who are equally as devoted to their education as her and academic curricular specific to the individual student. Outside of school Amoria enjoys watching stand up comedy and has considered getting involved with it herself. Amoria looks forward to the remaining years of her high school career holds.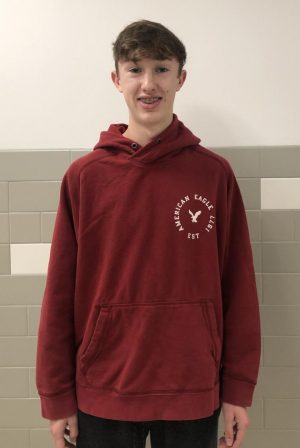 Sophomore nominee, Aidan Jarrett, received recognition for his hard work in his history class.  Soccer and track take up a majority of Aidan's time. He partakes in both school soccer as well as a league outside of our school. Aidan only completed half of his high school career, but he has a plan for the rest of his life. Attending University of Scranton for architecture while running track, serves as his current future goals. His passion for architecture strives from his favorite class, an engineering course with Mr. Banas. Aidan described his participation within athletics stating, "Sports have taught me what it means to be a team player and build a second family," continuing his enthusiasm with, "I am excited for track to begin." Aidan hopes to see an increase in student to counselor involvement over the next two years.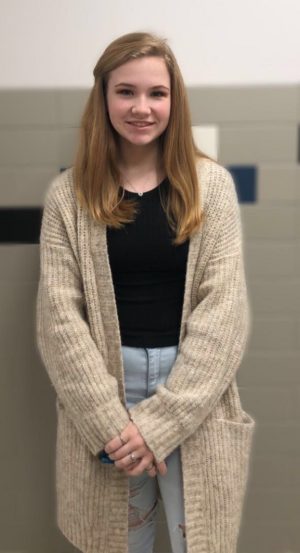 Junior student, Erin Miller, received recognition from Ms. Frisch due to her devotion to her AP Research studies. Erin says she enjoys her research class because, "it is very beneficial to analyze what you are reading and finding more about it and new interpretations & hear others new ideas." Erin stays busy around the school as a member of the National Honors Society, Technology Student Association, softball, and the prom planning committees. Erin takes AP and honors level courses as a way to challenge herself. Outside of her busy school life, Erin works at Famous Footwear and loves Pinterest. Erin has dreams to go to Penn State for engineering, in order to acquire a job in architectural engineering and looks forward to continuing to plan and attend her first prom.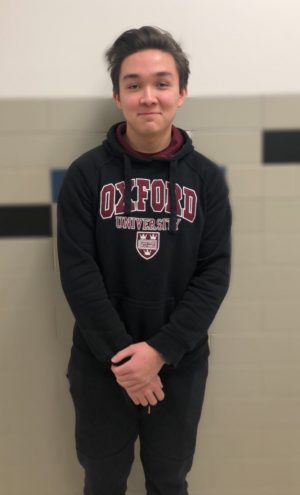 Senior student Ian Cummings obtained his nomination from his English teacher, Mr. Burch, due to his good spirit. Ian stays busy in school through his involvement in Key Club, National Honors Society, Math Club, and track. Similar to his participation in Math Club, Ian enjoys his Calculus B.C. class.  Not only is Ian a great student, athlete, and club member, Ian also works at the local Giant grocery store. When he is not volunteering, working, or doing school work, Ian enjoys rock climbing. In the home stretch for college Ian has decided he wants to attend a school for engineering. Although, college applications have been sent he has not decided on a school quite yet. The college acceptance letters in the next few months excite Ian and his family. Senior year can fill students with stress, Ian has been able to find joyous moments over the year, such as the pep rally. He said, "so far my favorite memory of senior year was the pep rally before break," adding, "it was nice because our grade finally won the competitions." Although, Ian approaches graduation he looks forward to the positive changes happening in the school. 
Quakertown High School students continue to work hard, and stay passionate about their interests. These November students represent the school's strong academic effort, extracurricular participation, and optimism towards the future of the building. The school looks forward to choosing December students to highlight.