Bowling Season Rolls in and Quakertown's team is Striking Down the Competition
Tis' the season to bowl! The bowling season has started and both the boys and girls teams are doing well! The boys varsity team has claimed their spot, first in their conference, and the girls are currently in third place. This looks to be a promising year for Quakertown's bowling team.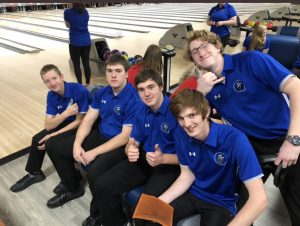 The bowling team only played four matches so far in the season and the varsity boys won 4-0 in all of the matches. When competing against another team you play three games of bowling. In order to win the match you must win 2-3 of the games you play. When you finish all three games, your teams ending score, all of the pins they knocked down, is added together. This is called a series. The boys are 4-0 because they have won every game and their series was higher than the other team.
This season there were cuts for the boys team, which has been a first. Mr. Hunsiker was happy about the turnout and hopes more people come to tryout next year. Both boys JV and Varsity are doing well this season. Matt Weil and Connor Williams, seniors of the boys varsity team, will be missed next year when they graduate high school. These two have been a part of the bowling team since it began three years ago.
The girls team is currently in third place in their conference. Their scores have been 4-0, 1-3, 1-3, and 0-4. The girls are optimistic about this year. They hope that they will have a fun and rewarding season.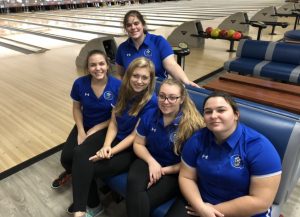 Seniors, Cayly Jones, Lilly Mitchell, and Makenzie Stryker, will be missed next year! They have been on the bowling teams for two years now and have improved their bowling averages significantly since they first joined the team. 
Lilly Mitchell, senior, joined the bowling team last year for something fun to do but now she is determined to better her scores after every game. Mr. Hunsiker recruits new people to bowl every year and he got her to love the sport. 
"Since I have joined the team I have learned where to stand when bowling and how to curve the ball in the pocket, between the first and second pin," stated senior, Lilly Mitchell.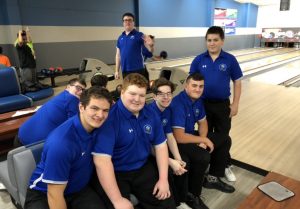 The Quakertown Bowling teams coach, Mr. Hunsiker, has been bowling since he was 6 years old. As you could figure, he is very knowledgeable about bowling and loves the sport. Mr. Hunsiker had originally made a bowling club before there was a bowling team because the school board would not allow him to make it a school sports team. Then Dr. Harner passed the bowling club to become a bowling team because it could get more students involved in a sport they never knew they liked or get current bowlers to come out and compete for the school.
When I interviewed Mr. Hunsiker he said that he believes, "the boys could compete for the league title against North Penn this year."
This would be the first time that they would compete for a league title! We are hoping for the best for the Quakertown bowling team as the season rolls out. If you are interested in signing up for the team next year then let Mr. Hunsiker know! The team is always open to new players, especially for the girls team
.