YOU Season 2: New City, New Joe
Eva, Staff Writer
January 17, 2020
The second season of "YOU" was introduced to Netflix on December 26th, 2019. The show is a thriller with a killer driven by love. This season of "YOU" kept me on the edge of my seat even more than the first one. This season is more addictive, intriguing, and chilling. This season introduced new characters. Compared to the first season, the characters are more interesting, along with the storyline. I would rate season two a 4.5/5 stars.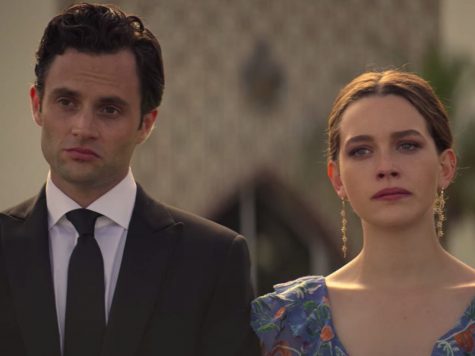 The main character, Joe Goldberg, played by Penn Badgley, is a killer who hasn't been caught by the police yet. In the first season, Joe kills people because of love, and he even ends up killing the one he loves, Guinevere Beck. At the end of the first season, Joe's ex-girlfriend confronts him and claims to ruin his life and destroy him in the way he destroyed her. Joe moves from New York City to Los Angeles in an attempt to hide his dark past and escape his ex-girlfriend, Candace Stone, played by Ambyr Childers. 
Joe also changes his name to Will Bettelheim, which he obtains by trapping the real Will in his iconic glass box, which is held in a storage locker. The real Will Bettleheim, played by Robin Lord Taylor, has strange attributes and is surprisingly helpful to Joe, considering his situation. This season, Joe finds a new love interest, Love Quinn, played by Victoria Pedretti. Love is a chef who tends to bake when something is wrong. She was previously married, but her late husband passed away, leaving her alone for Joe to snag.
Love's brother, Forty Quinn, played by James Scully, is always in desperate need of her for support and attention. Forty is a recovering addict, but as Love states, "It never takes much of a shove for him to fall off the wagon." His necessity for Love tends to drive other men away. The Quinn family owns Anavrin, the grocery store/bookstore where Joe intentionally works to get closer to Love.
When Joe moves to Los Angeles, he rents an apartment that has a perfect view of Love's house. Delilah Alves, played by Carmela Zumbado, manages the apartment complex. Delilah lives with her younger sister, Ellie Alves, played by Jenna Ortega. Ellie is an aspiring filmmaker that looks to Henderson, a popular comedian who became inspirational after surviving cancer. Ellie sees Henderson as a mentor and role-model. Joe has the need to act as Ellie's protector, especially with suspicions of Henderson having bad intentions. And since Joe believes Delilah is not being protective enough, he takes matters into his own hands.
The new characters introduced this season play a more important role in the series. Joe is still the main character, but other characters have their own stories. This season focuses more outside of Joe's mind and more on the people who surround him. The characters are also less objectified, like in season one where Beck was more of an object, as we saw her through Joe's mind.
In this season, Joe continues to justify his actions, seeing himself as the hero. In season one, he told himself that he was killing people to protect Beck. Joe even believed that he was the best thing in her life. He believes the same thing with Love, and even Ellie. We also discover the reason behind Joe's behavior and get an insight into his past. We get his origin story and why he does what he does. Despite being in a new city, Joes still follows his usual patterns. But the real Will Bettelheim persuades Joe to be a better person. He believes that Joe can change his wicked ways. Joe begins to show a lot of character and tries to be a better person. 
One of the most interesting aspects of this season is that Joe finally meets his match. He and Love discover the similarities in themselves. I also really like that this season explores new topics, such as questions about masculinity, abusers and modern relationships. The only thing I dislike are some of the ending aspects, which are unexpected but reasonable, considering Joe's mindset. Overall, the new characters might be my favorite part of season two, along with the intriguing storyline they bring. Another likable part is that Joe tries to stray away from his bad habits. Will Joe change, or continue to live by his old ways? Watch season 2 of "YOU" to find out. 
Want to watch the trailer? Click this link: https://www.youtube.com/watch?v=xXBTImqyeU0