Quakertown Boys Volleyball Is Looking To Jump, Spike, and Set The Way To Victory!
 The 2021 Quakertown Boys volleyball season started off stellar, winning seven out of ten of their games. They had very impressive wins over good teams such as sweeping Central Bucks schools with a combined total of fifteen to five sets. They also dominated Lansdale Catholic with a shutout. (Sets are scored when a team reaches 25 points, the first team to reach three sets wins the game). Quakertown came close to making the playoffs, but after a four-game losing streak, the hope for playoffs was lost. Although the season closed with a disappointing end, there was plenty of potential for the future.
This year brings plenty of anticipation for the experienced team. Now, there is a very strong senior class. Since 2018, their freshman year, this year's seniors have practiced, played, and worked together. When entering the program they were met with adversity right away. The team went four and thirteen, having a disappointing season that year. Quakertown Senior, Logan Parker, expressed his feelings after his first season "I feel like we could've done better. But we were young and inexperienced." Logan and his teammates knew they needed to work together in order to play better. Throughout the last few years, the seniors have been training and preparing for this season. It is their last chance to make the playoffs and leave their mark. Logan also stated that he has been putting in plenty of hours to improve during the off-season by actively running and lifting. He participates in other school activities such as dodgeball to sharpen his skill. The seniors this season are led by Micah Reinford, Zander Marks, and Cody Steiert. This trio creates terror on the court. These players are hungry and they strive for greatness. Head coach Andy Snyder has built this trio through his program to dominate in games.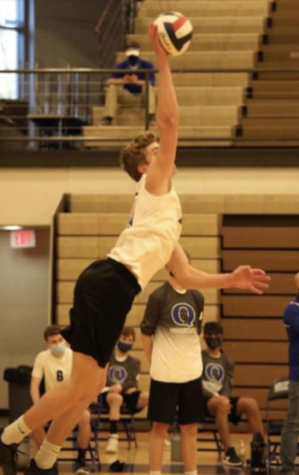 March has arrived and brings with it the official start of the volleyball season. It's finally time to see all the hard work that the boys have put in during the off-season. A mix of Lehigh teams like Freedom, Easton, Southern Lehigh, and Whitehall bring plenty of new challenges to the table. These teams combined have a total of twenty-one wins, and competed in playoff games. Quakertown is also playing familiar foes like Upper Dublin, Pennridge, Souderton, North Penn, and all of the Central Bucks schools. All of these teams we saw Quakertown play last year. Winning against these opponents would secure their first playoff berth since 2015, which would also bring plenty of recognition to the team.

Quakertown's head coach Andy Snyder is very hopeful for this year and his number one priority is keeping the team healthy. He has been preparing with open gyms throughout the new year in order to achieve these goals. Although these practices are optional, many players come out. Coach Snyder's philosophy includes building players through the program and claims doing this will bring the team together. In a heartfelt interview, Coach Snyder claims that "this team is a family" and the moment to capture success is now. For those looking to support their Quakertown Boys Volleyball Team, the first game is on Thursday, March 31. Watch the boys sharpen their claws as they take on the Titans of Central Bucks South at home!