Jack Harlow's No. 1 Hit Travels "First Class"
Jack Harlow's new song, "First Class" has acquired 101,753,602 streams on Spotify since its release on April 8th. It samples Fergie's "Glamorous" with an intermittent piano melody woven throughout, over which he raps occasionally with a soft tone.
Despite having a following beforehand, Harlow gained a lot of popularity when he was featured on Lil Nas X's "INDUSTRY BABY," which brought Harlow into controversial light due to Nas's edgy take on the song's music video, centered around a gay prison. Harlow used this momentum to grow his fanbase into what it is today.
While Harlow had No 1. Hits before, including "INDUSTRY BABY," his "First Class" is his first unaccompanied hit as a solo artist. The song's popularity grew rapidly on TikTok shortly following its release. The virality of the song on TikTok led to it blowing up on other streaming platforms as well.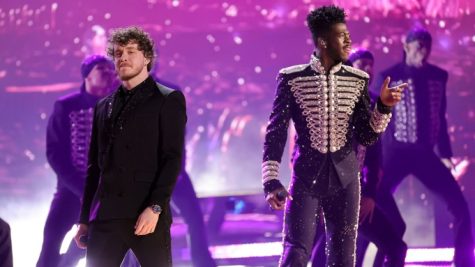 The song beat Harry Styles's "As It Was" by 10 million streams, knocking it to number 2. "First Class" racked up 54.6 million streams the week of its release, which is the largest total since Drake released "Way 2 Sexy" in September of last year. 
Harlow's career is quickly gaining in terms of his following as well as his success and will likely continue to do so with the release of his next album, "Come Home The Kids Miss You," set to release on May 6th, 2022. This past year his popularity has skyrocketed and fans from all around the world cannot wait to see what Jack Harlow accomplishes in his career moving forward.