Quakertown's "The Music Man" Overview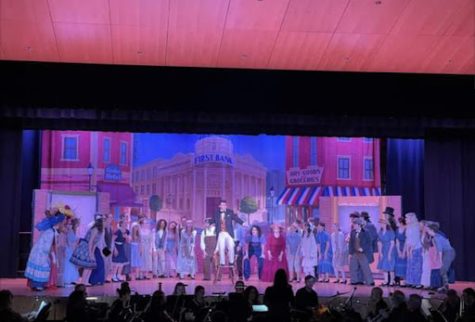 Quakertown Community High school recently hosted the musical, "The Music Man," from May 20th-22nd, 2022. Tickets were $12 for students who purchased them in advance and $15 at the door. Other than the play earlier in the fall, Baskerville, this was Quakertown's first show since 2019 that was inside, marking a new era after the COVID-19 outbreak. Bringing in huge crowds of people that flooded into the school's auditorium, so many got to enjoy the normalcy of Quakertown's music department showings. 
The musical plot surrounds the con man Harold Hill, who goes into the small town of River City looking to sell musical instruments and uniforms to children to keep them out of "trouble" due to the new pool table in town. Although, Harold is no musician, and plans to skip town after collecting his money without giving the lessons he promised to the children. Toward the end of the show, however, Harold changes his mind, as he finds happiness and pleasure in the music around him. The happy ending inspires hope in the audience, and the cast themselves. 
The music director Erin Camburn, director Andrew Kane, stage manager Jess Meirinho, props and costume designer Amy Migliore, and choreographer Carrie Okken put together and successfully presented "The Music Man" to the community of Quakertown, and others who came to see the show. 
Some of the people involved in the musical shared their opinions and emotions during and after performances. Those with experience on stage feel more prepared and assured of the musical's success. Rachael Szabo, who played Mrs. Paroo, stated, "I felt pretty ready myself and I was confident in my scene partners. I was scared for the group dances and set changes but I was pretty sure we'd be fine." Aspyn Braun, also a part of this year's musical, is grateful for her experience. She says, "Thank you to everyone involved in this welcoming and inclusive family. Whenever I come to practice I know I have a family that will continue to encourage and support me and the rest of the cast. I can't wait for next year and, for the seniors who apparently didn't want to get held back, we will miss you." Plays and musicals create a loving family atmosphere, more than just a few people getting on stage to perform. They create magic together.
The engaging suspense and comedy of the show lead to enthusiasm in the audience on all three days of the performances. By impressing once again, Quakertown High school's music department continues to thrive through these trying times. We look forward to the years to come, more plays, musicals, and concerts for the community to enjoy!