"You may not know now, but later you'll understand": The Journey of Jalen Hurts
The date is January 8th, 2018. The #1 ranked Alabama Crimson Tide are taking on the #2 ranked Georgia Bulldogs in the 2018 National Championship. At halftime, the Bulldogs have a 13-0 halftime lead. 3rd year Alabama QB Jalen Hurts is ⅜ with 21 yards, and legendary coach Nick Saban had seen enough.
Before Jalen Hurts was the highest-paid player in NFL history, an all-pro, and a perpetual winner, he was a loser. After he was benched in the 2018 National Championship game, true freshman Tua Tagovaiola went 14/24 with 3 touchdown passes and led Alabama back to win in overtime. After Jalen learned that he would be benched he told Tua, "Play your game. Ball". Even through the worst, Jalen was there to support his teammate who had taken his spot.
 In the following 2018 season, Jalen lost the job to Tua but remained ready in case of injury. Ironically, it was Alabama who trailed Georgia again, this time in the SEC Championship. Hurts would get his chance, as Tagovailoa went down with a sprained ankle in the 3rd quarter. Hurts led Alabama back to win the game in the final minutes with a touchdown run to take the lead. Jalen Hurts reflected upon the game, "I can look back after the National Championship game when I'm in the hotel room with my parents…I'm in my mom and dad's arms crying. I asked my dad and said, 'What're we gonna do now?' He looked me in the eyes and said 'We're gonna fight'. I've been fighting for a year not knowing what the result was going to be. Competing. Keeping faith. God was with me yesterday." 
Coach Nick Saban kept faith in Hurts throughout the whole season and said, "It's really sort of unprecedented in college football for a guy to go and win 26 games and then not have his job anymore. He's done so much for this program. I think he's handled things with such high character and class the way he's supported his teammates this year." 
Inspired by his performance in the SEC Championship game, Hurts decided to transfer to Oklahoma for his senior season in hopes of raising his draft stock and making the NFL. In his senior season at Oklahoma, Hurts went off. He posted the best season of his collegiate career by far, tallying 3851 passing yards, 1298 rushing yards, 69.7% completion, and 53 total touchdowns. He was named as a runner-up to the Heisman Trophy, just behind Joe Burrow. He led the Sooners to the 4th seed in the college football playoff. Despite his Sooners getting absolutely demolished by the soon-to-be champions LSU Tigers, Hurts and the Sooners had another great season, with Hurts projected to be a 3rd-4th round pick.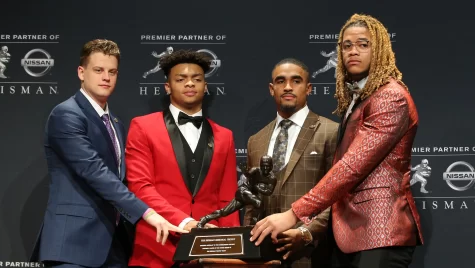 Many scouts believed that Jalen did not have what it takes to be an NFL quarterback. They criticized his ability to read the field and throw accurately and on time. Many believed he did not have the arm strength or size to compete in the NFL. Jalen was viewed as a high-end backup with potential. 
However, the projection and critics of Jalen did not mean much to the Philadelphia Eagles, who drafted him in the 2nd round at pick 53. Many fans and members of the media were dumbfounded. How could the Eagles do this? They already had their franchise QB in Carson Wentz. One NFL draft analyst from Walter Football said this after Hurts was drafted, "What the hell is this? Unless the Eagles have a trade lined up where they can ship Jalen Hurts, this makes absolutely no sense, and I think Howie Roseman has lost his mind. There's no reason to take a quarterback here, period, with Carson Wentz not even in his prime yet. And yet, this is a major reach. Jalen Hurts' ceiling is very low, so he should've been a fourth-round pick. This is the worst pick of the draft so far unless a trade is pending" (BR).
Quite frankly, this made zero sense to anybody outside the Eagles organization, including Jalen Hurts, "I thought I was going to Pittsburgh, from the interview I didn't think I was going to be an Eagle. So when I saw a Pennslyvania phone number, I thought, 'This is Pittsburgh', then they said Philadelphia Eagles. I had no idea I would come here. No idea" (New Heights).
In Hurt's first season as an Eagle, he was the backup to Carson Wentz. Despite that, coach Doug Pederson gave Jalen plenty of reps as a decoy with Wentz on the field, whether it be at running back or wildcat QB. He got his first chance in Green Bay after the struggling Wentz was benched and immediately gave the Eagles life. Despite the loss, he was named the starter for their next game against the 10-2 Saints. Jalen led the team to a win, becoming the first QB to rush for 100 yards and throw a touchdown pass. He secured the job for the rest of the season and showed plenty of potential despite not winning another game. 
In the offseason, Carson Wentz was traded, making Jalen Hurts the presumed starter. Many still did not believe in Hurts, and rightfully so, for as much potential he showed he also showed many flaws. He was still a very poor passer and struggled to read the field and his pocket presence was bad. In the 2021 draft, many wanted the Eagles to draft a QB, but the Eagles restored faith in Hurts. Hurts was asked to reflect upon the backlash he took after his first year in Philadelphia, "It was a big surprise to many, my favorite [Bible] verse, I went through a lot of stuff in college and it just kind of stuck with me, John 13:7 'You may not know now but later you'll understand'. Hopefully, people understand" (BR).
 The following 2021 season had many ups and downs, but Hurts led the Eagles to the playoffs after a poor start. Hurts looked a lot better and more polished in the 2021 season, but many still wanted him replaced. Hurts yet again showed potential, but had a ways to go. After the 2021 season, 1st-year head coach Nick Sirianni restored faith in Jalen, "Jalen knows where he stands with us. There are no secrets there. He knows he's our guy."
After a massive 2022 offseason for the Eagles, where Howie Roseman got AJ Brown, all-pro WR and Jalen Hurt's best friend from his collegiate days. Hurts took a massive leap in 2022. He went 14-1 (!) as the starting QB for the Eagles. He led the Eagles to a division championship and the best record in the NFC. He threw for 3,701 yards, rushed for 760, and tallied 35 total touchdowns in only 15 games. All were career highs for Jalen, as he finished as all-pro 2nd team QB, and the runner-up MVP only to Patrick Mahomes.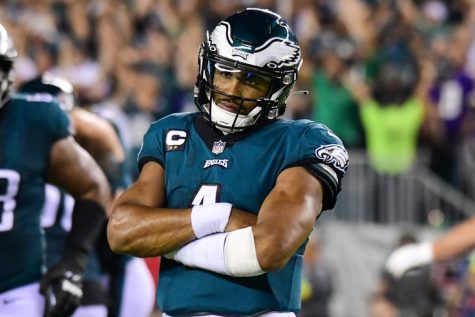 Despite having a nagging shoulder injury throughout the playoffs, Jalen led the Eagles to Super Bowl 57, where he had the game of his life. Jalen went 27/38 with 304 passing yards, 70 rushing yards, and 4 total touchdowns as he traded punches with Patrick Mahomes and the Chief's offense. 
Unfortunately for Hurts, his defense let him down as they fell 38-35. Jalen never had a chance to decide the game himself, as Kansas City won off a game-winning field goal in the final seconds. After the game, Hurts said, "You either win or you learn. That's how I feel. You either win or you learn. Win, or lose, I always reflect on things I could have done better, anything I could have done better to try and take the next step. That'll be the same process I always have going on." 
In the offseason awaiting the Eagles, they had many things on their mind. None bigger than locking up now superstar QB Jalen Hurts to a multi-year extension, it certainly was not going to be cheap. On April 17th, 2023, Jalen Hurts became the highest-paid player in NFL history after receiving a 5-year/$225 million dollar extension. Jalen Hurts said after "Money is nice, championships are better."
From "the guy who got benched in the National Championship game", "projected 4th round pick", and "Another draft bust", to a consensus top QB in the NFL and the highest-paid player in NFL history. This is the journey of Jalen Alexander Hurts, and it is just beginning.