Fall Sports
It is that time of year again Quakertown! The transition from summer to fall is happening, and our fall sports are off to a great start! Girls Field Hockey, Boys' and Girls' Soccer, Boys' Varsity, Junior Varsity, and Freshman Football, Girls' Volleyball, Cross Country, Cheer, Golf, and Girls' Tennis hit the practice fields and tracks, at the beginning of the summer and are ready to represent their school.
The Panthers Football Varsity and Junior Varsity teams have 6 more league games as Varsity carry their record of 1-3, recently dominating Upper Moreland on September 13th and securing a win, 31-6, and Junior Varsity having the record of 2-2, after losing to Upper Moreland, September 16th. Both teams will play at Cheltenham, against them, this upcoming week.

The Freshman Football came out with a huge win on their first game of the season on September 12th against Abington, 36-0, currently holding the record of 2-0.
The Boys' Varsity soccer team is 2-4 after losing a tough game to Central East this week. They will play Central Bucks West next. Junior Varsity also lost against East making their record 0-4.
The Girls' Varsity soccer team is currently 5-5 after taking a tough loss to Central Bucks East. The Junior Varsity is 1-5-2 as they also took a loss to Central West.
Aubrey Rutledge, a freshman at Quakertown High School played as a goalie on the junior varsity team, in her first high school game on September 19th, after being cleared from a concussion.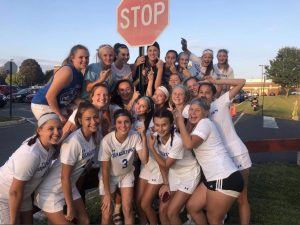 "Six or seven years ago, my dad and I were watching the World Cup and I said I can be like them, so my dad signed me up for soccer", the freshman claimed.
Aubrey went into the second half determined to play after months of not stepping onto the field. Unfortunately, a foul was called in the box, which led to a penalty kick, which happened to slip into the far left bottom corner. Aubrey sees wins in the future for her team if they work on communicating more, stepping to the ball and having stronger passes. Girl's Field hockey varsity team is currently 5-1 after losing to Central Bucks West and the junior varsity team is 2-3.
Girls' Varsity Volleyball took a 3-0 loss against Hatboro Horsham last week. The lady panthers are currently 0-8 and will play Pennridge coming up. The junior varsity's record is 3-4.
The cheer team held a summer cheer clinic, attended the UCA cheer camp, has made appearances every football game since August 31st and performed at our Qrock Council pep rally. The cheer team has done an amazing job pumping the crowd up on Fridays. The team will begin competing this fall.
Cross Country team has been running since the beginning of the summer! They are prepared to take on any school with only 19 on the team. The boys' team finished in 17th place with 498 points and the girls'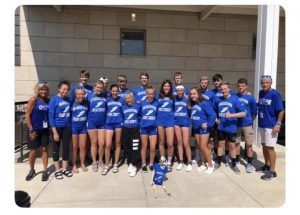 finished in 14th place with 390 points on September 14th at the DeSales University meet. What a great season it will be for them.
The golf team has been putting so much effort into their season so far and it's paying off! On September 19th, Quakertown scored 219 points in total! Seth Lowande with 42, Madilyn Siuta with 43, Cole Mehrman with 43, Brendon Ruzicka with 45 and Andrew Saglimbeni with 46! Keep working hard panthers.
Girls' Tennis has a record of 1-5 after beating our town neighbors, Pennridge! The girls are off to a great start!  Make sure everyone comes out to support our Fall sports; to read more on our sports at Quakertown Community High School, visit https://quakertowncommunityshs.bigteams.com/