Should QHS Have Open Campus All Year Around
Throughout Pennsylvania, there are some schools that allow their students to leave during school lunch hours; our school however, does not.
Studies show leaving the school for a good hour or two and eating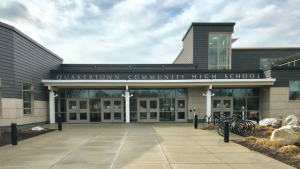 with friends or family has you coming back healthier and in a better mind set. Juniors and seniors would learn the responsibilities and time management needed to be successful.
Walking through Quakertown Community High School almost all students had agreed that open campus would be a fun and exciting experience for teens to take a break from school and learn the responsibilities of adulthood.
Junior Cristina Zavelata, believes that only juniors and seniors should be able to leave campus.  "Freshmen aren't responsible enough to leave and come back on time and if they walk they could get hit by a car" she said.  "So students with transportation would be allowed to leave so that it's all safe on the roads and there are no students going missing, getting hurt, or skipping."
To keep in mind most 11th and 12th graders would have a car or have friends with transportation and would be able to drive farther places such as Chick-fil-a, with enough time to make it back for class.  Cristina agrees that if there were a paper that had to be signed to do this her parents would allow her.
High school Geometry teacher, Mr. Hunter also agrees with open campus but only seniors who have kept up with attendance, grades, and behavior.  "I think it's good for seniors who have earned the right to go out and eat with their friends."
Seniors have senior release so they would have additional freedom and this would be preparing them for college and the real world. "It's not for everyone and it would be a privilege for those hard working kids, and some people just can't handle it," Hunter said.