Will Steich: The Journey of a Panther
Freddie, Staff Writer
September 27, 2019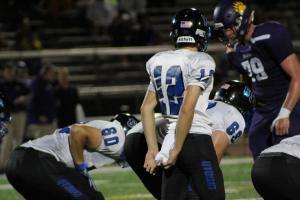 As week four of High School football approaches, the Quakertown Panthers seek to claim their first win of the season. Sophomore quarterback Will Steich explains his story of being a young quarterback at a varsity level, the earlier weeks of football, and the Panthers' week four game against the Upper Moreland Bears.
"It's just a cool experience honestly," Will states. "Being able to go out there under the lights and play football at the highest level with the older guys". Steich claims that playing at the next level served as more of a challenge than he expected. "The skill is like nothing I've seen before, kids are bigger, heavier, stronger, faster," Will explains. "Everyday I have to work hard and try and improve so I can try to be ready for whatever comes at me."
Coming into the 2019 season, the Panthers lost a significant amount of players this year. This season only 3 returning starters walk onto the field. "We lost a lot of starters and a lot of good players, but Coach Banas still expects a lot from us," Steich tells us. "We work hard and practice as hard as any other team, if not harder. Coach asks that we just go out and compete and play hard and if we do that, the results will come." 
The first few weeks of football for Will were not easy. He was not named the starting quarterback right away and had to fight and compete everyday for it. Week one came around against Central Bucks East and the Panthers defended their home turf. Will took a few snaps that game and finished with 60 passing yards respected by a 60% completion rate. The Panthers fell to the CB East Patriots 27-13.
Week two became a repeat of week one against the Souderton Indians, another loss at home. "After the game, the locker room was quiet," Will explained. "Coming into Monday, we watched the film and saw things we could improve on." For Week three, the Panthers traveled to CB West in hopes to take their first win on the season; "That was the week I was named the starter," Will says. "So that'll help get [Tyler] Merwarth in some other positions to help out the offense. We knew week three was gonna be tough but we had a couple games in front of us that we can take." Quakertown ended up losing to CB West and had their mind on their next match up against Upper Moreland. 
Week four of football has come and the Panthers take on their next competitor at Upper Moreland. Late in the first quarter the Panthers drew first blood with a run up the gut to Merwarth. "Coming in we had a lot of guys that were ready to go and get us win, so I thought this would be a game we would take," Will tells. "I think we finally figured some things out with where we need to put guys and different plays to run." 
Will threw a 35 yard pass to Tim Garlick who then ran it for an extra 20 yards to bring it to the house. "Tim made a good play catching that ball and then staying on his feet and running it for us to score again," Will says. "14-0 before half is a good spot to be in but we wanted to stay persistent and run up the score because at any time they could come back and Coach B. reminded us not to get lazy because that's when mistakes happen." Late in the half the Bears scored on a touchdown but missed the point after touchdown to put their first points on the board, making the score 17-6. "It was late in the third and we scored again so it was 24-6, so we weren't really worried about a comeback," Will expresses. "We really were just trying to run the clock out as much as possible to shorten their time and chances of scoring."
With 44 seconds left the Panthers recovered a fumble that secured victory. "We got the ball and just took a knee and let the time run out," Will states. "It felt good to finally get a win, when we had to two games before against CB East and Souderton that could've won but we didn't execute that game." After the game Steich explained the sense of relief, however, improvements will assist in their growth.  
"Cheltenham is a much better team than what we just played and we need to correct some things because week five is a big game for us," Will says. Will explains that getting a good win keeps the fans coming out to the games which helps a lot because of the environment. "Having a big and loud student section helps because we know they have our backs and support us," Will says.
Upper Moreland had been the Panthers first in-league game, where getting the win helps a lot. "We're 1-0 in the league and we want to build off that, so we are focused on the next five games and most importantly, Cheltenham," Will says as he and the Panthers prepare themselves for week 5.
Additional Information:
Pictures: