Overcoming Loss: How Temple University's Ice Hockey Team Moves Forward
Colleen, Staff Writer
October 23, 2019
The number "16" is brightly printed on the helmet of every one of Temple University's hockey players. When asked why, any player will take a deep breath, display a sad, reminiscent smile, and tell the story of Ryan Trefz. A brilliant hockey player, team captain, and a leader on and off the ice, Trefz, number 16, will be remembered. 
On June 22nd, 2019, 21 year old Ryan Trefz was tragically hit by a SEPTA train. This summer evening quickly turned into a mother and father lost their son, the night those who loved him will never forget, and the night that the Owls, Temple's hockey team, lost an irreplaceable player. 
The Owls go to great lengths to keep the memory of their captain alive. 
Ben Auerbach has '16' inked into his skin, a permanent reminder of his close friend. Auerbach told Whip Radio that upon hearing the news, he knew he "had not only lost a teammate, but a brother." In the same interview, Auerbach tells of one of his favorite memories with Trefz, at Charles Ghiazza's 21st birthday party. Auerbach gave a detailed account of him handing Trefz his drink while he used the restroom, only to come back to the angry and excited Trefz telling him they'd played Mr. Brightside. Although Trefz wanted nothing more than to dance, he held onto Auerbach's drink, because that's the sort of person he was. 
Ghiazza, Trefz's best friend, as well as his co captain, has an even more distinct tattoo to memorialize his best friend. A smile missing a front tooth is inked into the co captain's forearm, a tattoo of Trefz from a night Ghiazza recalls fondly.  Ghiazza explains he, Trefz, and a few other guys were out late when Ghiazza "got into a little bit of an altercation." He elaborates, "It was between me and someone else, and before it escalated, Trefz was in the middle of it just trying to break it up, being the peacekeeper. He ended up being the one that got sucker punched." Trefz lost half a tooth and the group spent the night in the ER.
Ghiazza adds, "It was one of the most funny nights I've had at Temple. Even when his tooth was half hanging out of his mouth and his face was all blown up, we were still cracking jokes and having a good time."
Inarguably, the Owls had a rough start to their 2019 hockey season. The loss of a teammate and leader is extremely difficult to push through, but the players continues to work hard and put their best effort into every practice and game. 
The team's rocky start to the season didn't end there, as the rink they were set to play home games in closed despite their contract. The Owls had no place to play, and they scrambled looking for a new rink, or they would have been forced to forfeit every game and be kicked from the league. Fortunately, the hockey community stepped in and worked with Coach Patrick Carroll to score a new home ice for the Owls, The Igloo Ice Rink at Mount Laurel.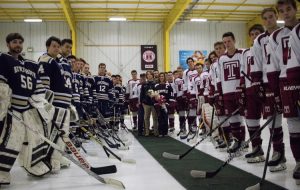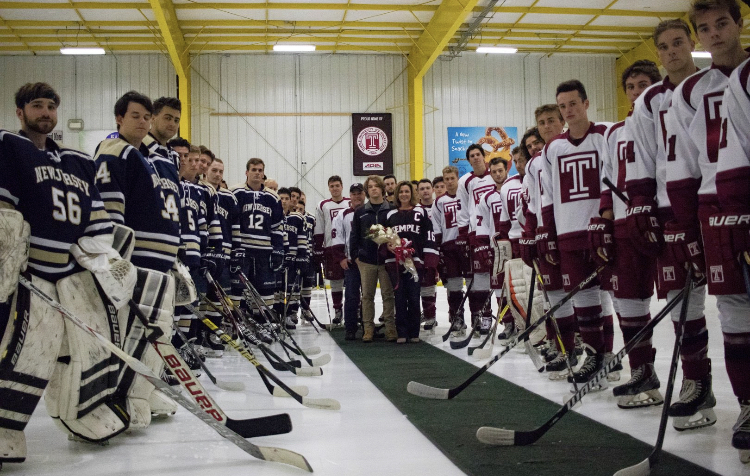 On September 14th, the Owls dedicated their first game of the season to Trefz. The players brought his family onto the ice and gave his mother, Francie Trefz, a bouquet of roses. Each player greeted the parents, many offering hugs and handshakes and words of condolences. The opposing team, unprompted, also went up alongside the family, offering their support in an act of genuine kindness. Both teams joined in a moment of silence, 16 seconds exactly, in honor of Trefz, and then his father, Rich Trefz, dropped the puck to start the game.
The Owls won 4-2 and dedicated their win to Trefz, saying "This one's for you #RT16" on their twitter page.
Carroll, in his first year coaching Temple after years coaching at Lehigh University followed by a season with King's college, hardly got to know Trefz. Despite their short time together, Carroll feels strongly about Trefz's impact. He says, "Ryan wanted the team to be successful. He wanted to hire somebody with the same vision for the team as he had, and that was me. Our short and long term goals were near identical, and he had big plans for the team even after he graduated, which impressed me very much."
Ghiazza still has big plans for the team this year. He says, "My goal, every year, has been to make it to Nationals. Whether or not that's a realistic goal, it's mine." He adds, "I at least hope to make it farther into the playoffs." He also understands what it will take, saying "It requires a lot of really strong play and we're getting better every year." Ghiazza, a risk manager major, will be graduating from Temple at the end of this year and going to New York to work for Allied World insurance. Hopefully, he'll help lead the Owls to nationals and achieve his goal before he goes.
Despite the horrible circumstances serving as the season's foundation, Ghiazza says, "We still have a season to play. It really made us all come together more, we really bonded over the whole thing. We bring Trefz's jersey with us wherever we go, and personally it makes me work harder every game and every practice."
A GoFundMe was created to help cover the costs of the memorial. The link to this is here, which includes more about Trefz and his family as well as an update statement by Rich Trefz. Currently over $41,000 have been raised.
Good luck to the Owls this season, this one's for Trefz.