Jojo Rabbit Review
"It's turned out to be a bad time to be a Nazi."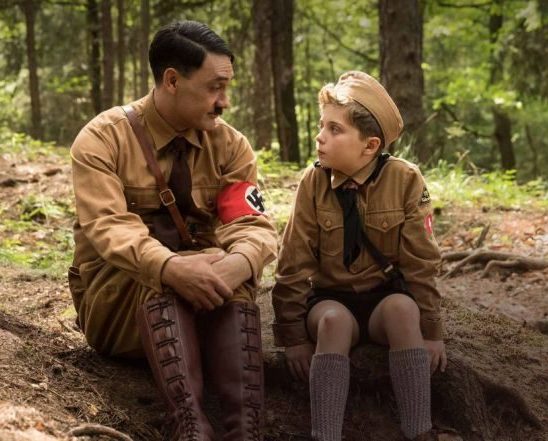 Colin, Staff Writer
November 20, 2019
Excuse the cynicism, but most movies in the western popular sphere as of late have been nothing short of blasé with a lack of any legitimate originality or heart put into them. Every premise feels like they were all cut from the exact same cloth: an action hero needs to save the city, or the world, or a couple with no personality falls in love with each other, or there's another damn sequel to that franchise everyone likes. Things have undoubtedly gotten better in the past few years (compare this year to the drought that was 2018, where the only entirely original major studio film released was Bad Times at the El Royale which did not break even) and there is no shortage of weariness and distaste for these big-time franchise films. Just take a look at Martin Scorsese and Francis Ford Coppola's controversial opinions on the Marvel Cinematic Universe.
Now take all of that spiel and throw it out the window, because Taika Waititi's (Thor: Ragnarok, What We Do In The Shadows) Jojo Rabbit is potentially the single quirkiest western-made film to hit theaters in a long, long time. While based on a book, therefore not totally original, there are very few films in the world one could call a dark comedy centered around the backdrop of Nazi Germany, much less films that pull this setting off with flying colors and an immense amount of heart and emotion. Spearheaded by a charismatic director and anchored by fantastic acting from every member of the cast, it would be a wonder that Jojo is not the most popular film at the cinema right now if not for its bizarre premise.
Jojo Betzler (Roman Griffin Davis) is a young German boy in the end days of World War II who simply cannot wait to be a good Nazi for his Fuhrer, who he idolizes enough to create an oafish imaginary friend (director Taika Waititi) out of. However, after proving himself both too empathetic and too reckless for his Hitler Youth camp, he lands himself back home, where he discovers that his loving mother (Scarlett Johansson) has been harboring a Jewish girl named Elsa (Thomasin McKenzie) for an unknown amount of time. Through her, and the waning hope to win the war, Jojo finds himself questioning his nationalism and antisemitism.
There could not be a better time for a film with such a message to release; Jojo Rabbit is undoubtedly a reaction to the sudden, rising amount of hateful rhetoric that seems to be sensationalized day-after-day to no end throughout the world. Waititi, a Jewish man himself, explicitly went out of his way to do no good for the antisemitic crowd that would potentially see this film if only for the Nazi aesthetic, in similar vein to how there is a sect of Neo-Nazis who enjoy American History X, which puts forth a similarly pro-compassion message by its end, though with a much darker tone and premise.
With a seemingly infinite passion for its anti-hate message, the writing of this film ranges from wacky and gut-busting to deeply moving and driven to rip tears out of its audience's eyes. This unfortunately sometimes creates a tonal problem; there is a scene around the 2/3rds mark of the film's runtime which aims for laughs with an overly-played out gag, while immediately turning that very same joke into an intense and downright horrifying plot device. If not for the incredibly tense acting from everyone participating, this scene would have entirely flopped onto its face. Another scene after this one is a heart-wrenching portrayal of the futility of war and bloodshed, but it nonetheless shows viewers a callback to a previous joke, which could have been referenced mere minutes later while holding the same effect, and not muddying up the tone of an otherwise perfectly composed scene.
Despite the occasional inconsistent tone, Jojo Rabbit is undoubtedly one of the most heartfelt works of the year. Roman Griffin Davis's work as the title character is truly stellar, especially so for an actor of only about 12 years of age. Needless to say, he has set a high standard for himself to follow up on. Jojo is almost certainly a must-see for the year, if not the decade.