Coming 2 America: When Will Hollywood Stop Stereotyping Africa?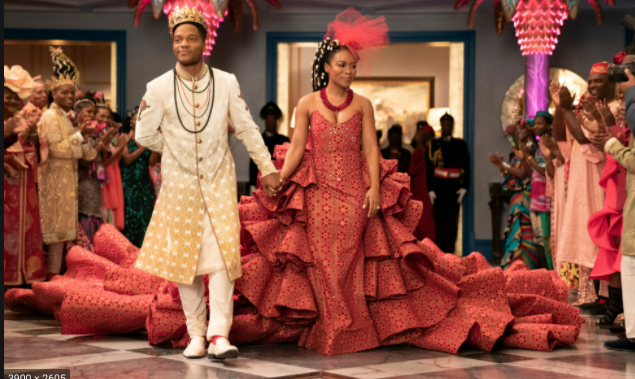 Coming 2 America is the 2021 sequel to the beloved movie, Coming to America released in 1988. Starring Eddie Murphy as Prince Akeem and Arsenio Hall as Semmi, the prince's royal consultant, the fans expected the humor to live up to the original. The sequel features the same cast and introduces new characters such as LaVelle, Prince Akeem's son. Many jokes flopped as they referenced stereotypes such as African life and the role of women. A few jokes repeat from the first movie. The importance of African culture and family highlights itself throughout the movie. It begins with Prince Akeem learning that he has an adult son, LaVelle, from when he had traveled to Queens, New York to find true love. He has three daughters with his wife, Lisa, who he fell in love with in Queens. The movie encompasses LaVelle's journey from Queens to Zamunda as he learns to become the heir to the throne. 
Many African stereotypes thread themselves within both movies. Oftentimes stereotypes create generalizations. People begin to assume facts or ideologies about a place or person especially when Hollywood portrays the stereotype. A reference to Babar, an elephant, reappears in the sequel. That scene offends some Africans and justifiably so.  Africa is not a continent where exotic animals run wild. Urbanization and industrialization occur. The movie also contains misogynistic moments. Women tend to be objectified as Akeem's servants, and especially as royal bathers.
*SPOILERS*
To rightfully become heir to the throne, LaVelle must pluck the whiskers from a lion as his final test. As King Akeem shares this he is walking outside surrounded by a landscape of plains and wild animals. This is inaccurate because animals do not just roam freely around people. Africa is urbanized and is not all plains and animals. In the scene, an abrupt, trumpeting sound of an elephant comes from behind. LaVelle acts scared and moves away as King Akeem moves closer to the elephant. He walks up to the elephant and informs LaVelle that Babar, the elephant, is a friend. He and Babar have been friends since childhood. This infers that Africans grow up surrounded by animals and become friends with them.
LaVelle and his barber, Mirembe, take an evening stroll around palace grounds. A natural chemistry appears and they are romantically interested in each other. They giggle and discuss commonalities between each other. Mirembe tells Lavelle that she would love to open her own barbershop when asked about what freedoms exist outside of Zamunda. He is excited to hear that she would like to open her own barbershop. She informs him that women are not allowed to own businesses in Zamunda. Mirembe expresses her opinions by explaining that each king promises more freedoms, especially for women, but they never follow through. 
The gender inequalities are very apparent. Princess Meeka, King Akeem's daughter, could not be the heir to the throne because she was not a son. All of her years of hard work and training were discarded once King Akeem learns of his son. She cannot be the heir to the throne because she is a woman, but when his son was discovered and informed of his birthright he could be the King. At the end of the movie, King Akeem moves towards change. He allows Princess Meeka to be Queen once his life is over and tells her LaVelle will solely act as an ambassador to the United States.
When LaVelle arrives in Queens he is told to prepare for a bath. The royal bathers come up to him. This sexualizes women as well as makes them subservient to men. It also shows how in some societies a patriarchy still exists. 
There are some positives as the movie highlights cultural pieces that intertwine themselves throughout. Most of the clothing represents African culture accurately. The countless colors and designs such as headwraps and flowing dresses encompass many ethnicities. Princess Meeka adorns herself in green and white as she works with LaVelle to pluck a lion's whisker. Zamunda incorporates many Nigerian colors and customs. Green and white are the proud colors of Nigeria. At Lavelle's and Mirembe's wedding, their clothing was very traditional. Davido, a Nigerian pop star, sang at their wedding. He is a highly influential Nigerian artist. The movie accurately portrays the importance of family relationships. King Akeem and Queen Lisa consult with each other before announcing their decisions. 
Sequels tend to underperform and this holds true for Coming 2 America. The 2021 sequel included poorly written humor and some jokes tended to be offensive rather than humorous. As a whole, the movie has some highlights such as the positive integration of African dress and music. The negatives included a vast majority of the jokes, as well as the script as a whole. Stereotypes regarding gender roles and generalization were too prominent. Coming 2 America was an okay movie. Nothing stands out to make it remarkable and the negative stereotypes far outweigh any positive effects; 24 cents short of a quarter describes the movie accurately.  I'm sure Godzilla vs. Kong will be equally enthralling as a recent Vanity Fair review concisely states, "It's just the right kind of dumb."