BROCKHAMPTON – Ginger (Track-by-Track Review)
Colin, Staff Writer
September 25, 2019
December of 2017: hip-hop boy band BROCKHAMPTON has released their third and final installment of the acclaimed tour de force that is the SATURATION trilogy. The fans are satisfied, and the world is beginning to hear their names echo through the world of popular music. Touring, success, record deals, all the like ensued soon after.
Every bit of it came to a crashing halt in late May of 2018. The controversial announcement of the ousting of founding member and rapper Ameer Vann due to accusations of sexual assault and rape shakes the band to their core. All projects come to a screeching stop, and the future of the group is unsure.
In the red sights of the aftermath, the collective released their fourth full-length record, iridescence. Tours resumed, merchandise was made, a good portion of the hype that made BROCKHAMPTON's rise to fame so excitable had returned. But nothing was the same. Tours ended, interest faded, and the continued existence of the band was once again put into question. Every member did soul-searching to figure out what would work, what was next for him or her, individually and collectively. Coming off a long period of effective radio silence, the group announced their fifth LP, Ginger, too much excitement, following lead member, vocalist, and rapper Kevin Abstract's solo effort ARIZONA BABY.
GINGER is nominally a record by most of the same members of BROCKHAMPTON from the SATURATION trilogy, but the much more mature, lower-key sound this time around proves that this is not the same band as it once was. Long gone are the days of lyrics referencing pop culture and the burning desire for fame – what is left? The talk of trauma, religion, independence, maturity, and introspection.
The record begins with NO HALO, led by a simple guitar riff that soon evolves into a melodic, infectious rolling beat, accentuated by the vocals of guest singer Deb Never. NO HALO tells the listener exactly what they are in for; each previous release began with songs that could only have been described as bangers, like the Ameer-driven HEAT or the victory lap that was BOOGIE. The tone set by GINGER is immediately much more dour and muted, a refreshing change of sound that was missing from iridescence, despite how experimental that album also tended to be. Rappers Merlyn Wood and Matt Champion's unexpected vocals make the opening track a strong start for the rest of the record.
Following NO HALO are the pop bangers SUGAR and BOY BYE, which serve as a much more groove-centric, dance introduction, more akin to the band's typical sound, to remind listeners that yes, BROCKHAMPTON is still BROCKHAMPTON. SUGAR is an emotionally vibrant and layered cut that focuses on the forgotten relationships of youth and innocence – a reflection that would not be possible without the feelings of betrayal the members felt on Ameer's departure. Continuing to BOY BYE, the group further delves into their roots by making an Outkast-style bop with an almost explicit focus on dancing ability. The heavy lean into this vibe comes at the cost of some lyrical prowess – though this track is dominated by lyrical maestro Dom McLennon's verse, the second verse by Matt Champion contains some rather corny lines that could have used a few more minutes in the oven: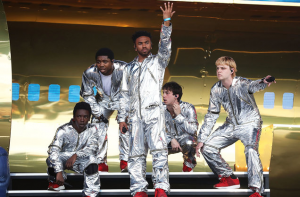 Goofy-a** boy, look like Elmer Fudd's cousin
Heavy-a** feet, bet Pluto heard you comin'
Actin' like Regina, you a lil' bit dramatic
I been in the cockpit, I been in the cabin
Take the ego out, just revolve around the planet
Damn, I'm like Kirby, man, I don't take damage
 The fourth track on the record, HEAVEN BELONGS TO YOU, is an absolute curveball of an interlude starring none other than British guest rapper Slowthai, hot off the release of his debut record Nothing Great About Britain… and nobody else. Slowthai's flow may be a bit intense for some to handle when compared to the accessible, pop-influenced stylings of the members of BROCKHAMPTON, due in part to his much darker persona and rebellious spirit, but his lyricism is a highlight tying directly to the themes of religion and self-reflection previously expressed on the record.
I walk on water' pain and torture what I bring to these
And there's a war in my head, just like the Middle East
And I'm the flurry, vision blurry, see soliloquies
I didn't get the memo, didn't CC me
Only CC me when I'm doin' burglaries
And if it weren't on TV you wouldn't have ever seen
ST. PERCY feels a bit like a sequel to the opener of the first SATURATION record in tone. The bass-driven production cuts deep into the structure of the album, and makes this effectively the heaviest-sounding song on the album. However, outside of Bearface's stylish verse that showcases his talents as a rapper rather than purely as a vocalist, and Merlyn's explosive, chopped, screaming outro, the flows of each member on this cut leave a bit to be desired – luckily, this would be a bigger issue on any track that was even slightly lighter in production than this.
IF YOU PRAY RIGHT comes around to act as what seems to be the centerpiece for the entire record. Primarily a looping brass solo that perfectly complements the excellent flows that each of the member's showcases leads the infectious beat. Dom's opening verse is of particular note in how well the lyricism and religious references flow together, both of which are well represented by every other performance on this track. The track is finished by a total psychedelic beat shift, now starring Kevin Abstract, who, prior to this moment, was in dire need of a spotlight; strange, considering his prominence as the 'leader' of the band.
However, in a whiplashing turn of emotion, the true centerpiece rears its head to slap the listener in the face with a bout of emotional turmoil presented by DEARLY DEPARTED. This song is both a direct letter to Ameer Vann, and a commentary on losing loved ones as a whole. The R&B influenced beat hides the burning fury behind nearly every line – fury at themselves and fury at those who hurt them. Kevin Abstract's opening verse is best interpreted as a message not to a man who betrayed him and his friends, but a man who was once his best friend, a man that he lost and can never reach out to again – and someone who he would hate to even attempt reaching out to again. His message is immediately followed by a hook sung by Joba, whose soaring vocals are a gut-wrenching goodbye to the people he has lost. Matt's verse follows suit, and is a sour letter to his family that despite the doubts he had of himself and the tremendous losses and trauma he has endured, he will keep on pushing forward until there is no more pushing to do.
The true highlight of DEARLY DEPARTED however is Dom's hateful soliloquy to Ameer in wake of finding out that Ameer had played a part in setting up a friend of Dom has to be robbed. What begins as an unflinchingly frustrated monologue turns into Dom screaming at the top of his lungs to cathartically curse out his old bandmate:
Watch for where you land, sorry 'bout your plans
That was all a scam, you won't understand
Pass the weight off to your friends and never face the truth
Because you never learned how to be a man
And it's not my fault, and it's not my problem anymore
With little room to breathe after such an emotionally charged song, the questionably placed I BEEN BORN AGAIN begins. With seemingly egocentric yet conscious lyrics on newfound fame, money, and experiences with drugs, the song almost feels like it was intended to lift the mood of the album back up from the previous track; the degree to which that works is best left for the listener to decide. As a song on its own merits, the production is simple up until the latter half. Each of the verses are fairly well-made, but both Merlyn and Dom's short contributions to the song feel like a rather pitiful waste of potential for a song that desperately needed more going for it.
The title track GINGER follows, and is by far the most straightforward pop cut on the album. The vocals are almost entirely layered in an auto tune filter that seems to be misguidedly applied.  While the lyricism is a fresh topic i.e. the independence of a loved one, the unnecessary effect the delivery is caked in lessens the emotional cutting power for much of the song's runtime, particularly on the vocalist best known for his powerful and unique prowess as a singer, Bearface.
Beginning the track BIG BOY is an immediate, addictive hook that is simultaneously cathartic and downright annoying; the melody it uses is almost as though it was first made for a commercial of some sort. This would not be such a problem if the hook wasn't repeated as frequently as it is. The primary reason to come back to BIG BOY, however, is the masterful verse from Joba detailing the process of emotional maturity and the acceptance of grief with a flow that harkens back to the standout verse of his from JOHNNY off of SATURATION 3. Other than that, this one is a miss.
LOVE ME FOR LIFE serves as a total breath of fresh air, particularly in that it continues off the previous track by displaying a melodic, introspective verse from Joba, and an energetic, bustling powerhouse of a verse from Merlyn. The production shifts from a laxer tone to a brassy kicker specifically for his part – a much-needed injection of energy for the rather gloomy second half of the record.
Closing GINGER is VICTOR ROBERTS, named for its primary feature, who recites parts of his life story, chronicling his experiences with his family, police violence, and betrayal, set to a bitter piano. Following is a blisteringly emotional outro spearheaded by frequent collaborator Ryan Beatty once again recounting the album's theme of religion as he thanks God for the fact that he is still alive. In this moment, it is as though every bit of tension built up by the rest of the album is released all at once.
For such an anomalous band that tends to seem more like a project or an experiment at times, GINGER's mere existence is less of a continuation of what they began as and more of a rebirth; in fact, it may have been more appropriate to name the record after I BEEN BORN AGAIN. Nonetheless, this album also goes to show that BROCKHAMPTON is at their best when synchronized to the same marching beat, and that sentiment is displayed at both its best and worst case scenarios on this record. Luckily, the beat of the drum is an easy one to follow for most of the group this time around – and if the trend they have shown so far continues as this has from iridescence, this album may only be the start of something fantastic.