Quakertown Comes Together for the King's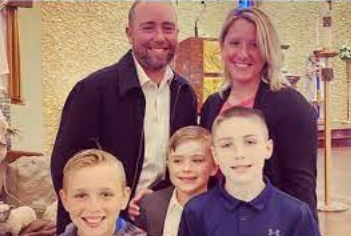 Over the holidays, Quakertown experienced a tragedy like no other; losing members of a deeply loved and involved family to a house fire. The King family were not only known from baseball and schooling, but every other community event. They could always be spotted with a smile on their face. The loss of Eric (father) and two of his sons, Patrick and Liam, hit our community , but showed us who we were as a community. 
Within hours of said night, Kristin Randazzo, a family friend, had organized and explained the circumstances of the loss and was quick to make a GoFundMe in order to support Kristin and her oldest son, Brady. In less than 2 days, the GoFundMe surpassed $600,000 and was even shared nationally through social media. 
Left and right, Quakertown, as a whole, jumped to their feet to help overcome this heartbreaking news and ensure that Kristin and Brady knew they were and will continue to be loved and cared for by our community. Businesses made boxes, websites, posters, and signs to raise donations to create a platform for Krsitin and Brady to use when they are ready.
Not only has there been financial support (in the form of money), but platforms like instagram and facebook filled with heartwarming messages and memories sending support and extra love to the King family. 
Julie Pizzi, an employee at Giacomo's Italian Market, shared the heartfelt bracelet fundraiser shown at said restaurant. The wristbands are being sold for $10 with all proceeds going straight towards the family. Pizzi contributed words saying that it is 'inspiring' how responsive our society has reacted thus far.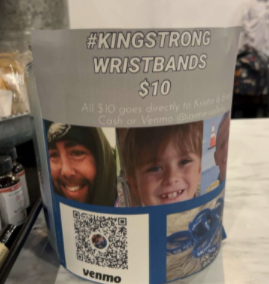 Businesses small and large have gathered within the past 3 weeks to show their remembrance and honor to the family. Not only has Giocomo's Italian Market contributed to fundraisers, dozens of other businesses have done the same. These businesses include (but not limited to); The Upper Bucks Chambers of Commerce, Quakertown Alive!, Quakertown McDonald's, The Hickory Stick Ice Cream Shop, Nourish, BLOOM Flower Co, Chimayo Gallery, Rams Pint House, Covered Bridge Car Wash, Papa's Cupcakes, and several other borough businesses. 
Although the GoFundMe campaign was shut down due to certain circumstances, a link was provided in order to send gift cards to the family via Helping Hands. (Found at bottom of page) Whether it be to gift a meal to the family or even just a show of encouragement and reinforcement, any and all donations have and will be appreciated.
When a hardship like this strikes, it seems impossible to not feel lost, but Quakertown and surrounding communities have done nothing but make it clear that we will have constant backing no matter who it happened to or what has happened.