Tom Brady's Legacy Comes to an End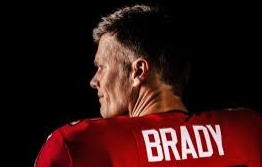 The 2021-2022 NFL season has brought many shocking headlines an average football fan would not expect. Of these shocking occurrences, possibly the most shocking of them all is the retirement of NFL quarterback, Tom Brady. Well known among the majority of sports fans, Tom Brady is often brought up in the discussion of the greatest NFL player of all time or even as the greatest athlete to walk the earth. Yes, one could say that his NFL career has been so prestigious and unmatched that there is no better athlete than Tom Brady himself. If you are one of the few who are not aware of what Tom Brady has done for the sport of football, then you likely aren't aware of the many accolades in which he has deservingly acquired. Drafted by the New England Patriots with the 199th pick of the 6th round in the 2000 NFL draft, Tom Brady has built a legacy in all of sports. 
Winning seven Lombardi trophies, three MVPs, and five Super Bowl MVPs, Tom Brady has prolonged his prestigious career to twenty-two years played in the NFL. Out of the many achievements on his outstanding resume, he holds the record for the most ever passing yards (84,250) and the most touchdowns (624) by an NFL player, so it is safe to say that Brady deserves a comfortable retirement. In total, Brady has played twenty years with the New England Patriots and spent his last two seasons with the Tampa Bay Buccaneers. For all of Tom Brady's statistics, look here.
This past season, Tom Brady led the Buccaneers to a 13-4 season but came up short, losing against the now Super Bowl Champion Los Angeles Rams in the NFL's NFC divisional round. The game saw the Buccaneers trailing 27-3 in the third quarter before Brady led his team on a furious comeback to tie the score with under one minute remaining in regulation. The Rams had one more chance, and they went 63 yards in five plays to set up the game-winning field goal as time expired. Little did we know, this game could quite possibly be the last we see of Brady. 
Having more Super Bowls won than any team in the NFL, Brady is often brought up in conversations either about how he has beaten your favorite team or managed to win yet another Super Bowl. Up until recently, people assumed he was going to play till the age of 45, possibly even achieving the dramatic goal of playing at the age of 50. These hopes or possibly nightmares for people can now come to an end because Brady claims to be officially retiring.
On February 1st, Brady posted a long nine page Instagram post to his fan base. The post saw Brady thank his friends, family, and fans for supporting his career these past 22 years. It had no mention or thanks to his previous team, the New England Patriots, who he had played for 20 years and won 6 super bowls with. He focused on what the Tampa Bay Buccaneers organization means to him and also how his family has helped him along the way.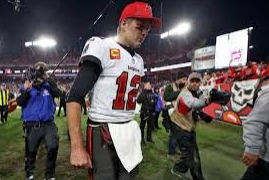 Following Tom Brady's announcement on February 1st that he is stepping away from football, Brady spoke on his SiriusXM podcast "Lets Go!" with Jim Gray and Larry Fitzgerald, about his possible future return to the NFL. "It's certainly not that I can't play, or continue to play, but I think there's an important choice for me to make," Brady said to his co-host Jim Gray, talking about how he wants to focus on other things as he grows older. "And it just, in the end, felt like it was the right time to do it."
However, Brady didn't seem 100 percent firm on his retirement being a permanent one. Was this retirement rushed? Possibly, seeing as though he is optimistic knowing he will miss the future of the game of football. When Gray compared his situation to Michael Jordan, Muhammad Ali, and Mike Tyson, who all retired and later returned to their sports, Brady replied, "I'm just gonna take things as they come. I think that's the best way to put it. And I don't think anything never – you know, you never say never. At the same time, I know that I'm very – I feel very good about my decision. So, I don't know how I'll feel six months from now."
When asking a fellow sports fan of Quakertown Highschool on what he thought of Brady's retirement, he responded to Brady's retirement as a shock, not only to his fans but people who despise him, "It's a legacy and a dynasty coming to an end, although I wouldn't say his impact is as huge as per say Kobe Bryant's was in basketball, he still came in as a 6th round pick where people said he would be a third stringer or worse, surpassing all odds. That means a lot, seeing players like Kurt Warner, an undrafted great, win only one Super Bowl and to come out your second year and win a Super Bowl is pretty astounding. Look at what he did in Tampa his first year, that right there proves what he has done for the sport is phenomenal, no question."
When asking a student who doesn't often watch or keep up with the sport, he said "that from what I hear is that Tom Brady is the best football player to have played the game. I know that he played for the Patriots for over twenty years, starting before I was born. I also know he won a Super Bowl last season in his mid 40's which at least shows how good he has been. I did recently hear about his retirement but it did not come as a shock."
 Filled with many superstitions and accusations over his career, Tom Brady has managed to win despite his age of 44, being the oldest player in the 2021 season. With all of the backlash and odds against him over 22 years, he has never lost the spark that has pushed him to play every week.
As for what it now means for the future of Tom Brady, He plans on continuing to build his recent ventures. In his long length Instagram post he went forth and stated that "The future is exciting. I'm fortunate to have co-founded incredible companies @autograph.io @bradybrand @tb12sports that I am excited to continue to help build and grow, but exactly what my days will look like will be a work in progress."
Not only can we commemorate what he has built for all of sports, we can also thank Brady for giving fans more of an appreciation for the sport. The legend of Tom Brady is one that people will not forget years to come and it is one we will forever cherish. Love him or hate him, his greatness cannot be argued.