QCHS Prom Dress Drive
Approaching quickly, both senior and junior prom will be upon QCHS in a few short months. Junior prom is on April 30th at Lehigh University and senior prom is on May 14th at the Bethlehem Steel Stacks. Tickets are to be sold within the next few weeks, so prom dress shopping and searching is the biggest thing on many students' minds. 
Because some students may not have the luxury to afford a nice prom dress or find a dress that they like, the guidance office has a wide variety of dresses that any student can stop by and look at. There are options of short and long dresses in a variety of sizes, colors, and patterns. Said dresses are free of charge, questions, and intimidation. 
Mrs. Sabol, one of Quakertown's guidance counselors, provided insight on where the dresses come from and how the idea came about. She told the story of how the prom dress drive was created. Kyra Handel, a Quakertown Highschool alumni, had heard that a student went into school on a cold morning and decided to ask guidance if they had a coat. Without hesitation, the counselors provided them with a jacket.
This story touched Kyra's heart as she went home and told her mom the act of kindness that the school had shown. Together, Kyra and her mother realized that if a coat was needed then there had to do be other items needed. They then started gathering prom dresses for girls who are in need of one. 
Through Facebook and other social media platforms, a dress drive was created. Teachers, students, and parents loved the idea and began donating dresses to support. There are about fifty dresses at the guidance office available for students, all varying in different colors, shapes, and sizes. Students can obtain the dresses at no cost or fee. Anyone can easily pick out a dress and take it home to try on. If it does not fit, guidance will take the dress back and students can continue searching for their dream dress.
However, this is no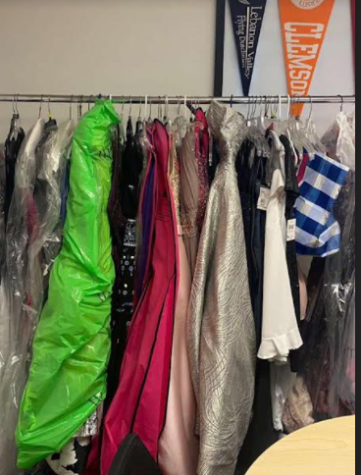 t the first year that the guidance office has done this drive. The dress drive is a regular tradition that the school provides and their one goal is to provide students with free dresses, leading to a perfect prom night. Guidance wants students to attend the prom and feel comfortable asking for a dress without fear of judgment.
Mrs. Sabol spoke on the fact that in past years "Students were shy about coming down". She further stated that "We are not asking for personal information. If someone says they need a dress, come down and get a dress. It is not like we are checking the lunch list to see if all your fees are paid." If you find a dress that you do like, then it is yours to keep. If the dress needs alterations Mrs. Handle's sister does altering and hemming and can fix the dress. Guidance is here to help pick out a dress and fit it perfectly.
Mrs. Sabol states "If a [student] needs a dress and finds one from the variety of dresses available, then we are there to allow them to find a dress that they feel beautiful in."
If you or a fellow student are in need of a dress or are interested in looking at the prom dress options, the guidance office is open throughout the day to either set up an appointment or stop by in between classes. The main goal of this drive is to help you and your peers feel comfortable, look your best on prom night, and get rid of any fear of not finding a dress.