The Rebuild: Quakertown Football 2022 Season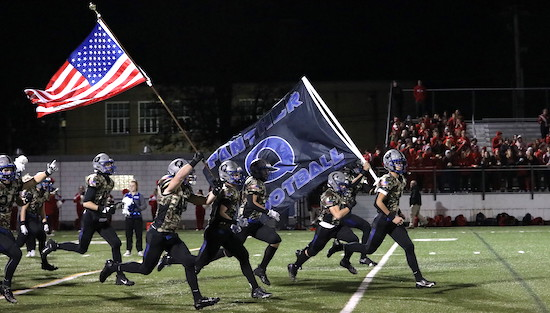 The Quakertown football season is back! Following an undefeated season last year, the Quakertown football team strives to fill the shoes of the 18 seniors they lost last year. Starting off the season with a win, touchdown after touchdown, Quakertown dominated Southern Lehigh 48-28. Unfortunately, in the following games Quakertown matched up against difficult opponents, North Penn, Central Bucks West, and Plymouth Whitemarsh, each game ending in a loss for Quakertown. 
Before the first game of the 2022 season, many people expected a season as great as last year. According to Mr. Banas, head coach of the football team, what fans do not realize is that the old team was "a once in a coaching career typical year [because] we were heavily senior-dominated on both sides of the ball." This year, as shown during practice and in the preseason, the boys worked hard to get better each day. They put in long hours of conditioning and practice: 5 days a week during the summer and 6 days a week during the school year. According to starting defensive end, Mikey Richino, his goal is to "grow and develop as a player and work together to win."
Although Quakertown has lost many seniors, everyone on the team still fights for each win and tries to do their part. As Banas points out, Vince Micucci has filled the shoes of Will Steich, a three-year starter, and has done a good job as far as leading the team and being a "captain on that side of the ball." Juniors Cody Jefferson and Max Morris have also been key players in the game. Max Morris has made some crucial catches, and Cody Jefferson stepped in on both sides of the ball taking on some leadership roles. Banas acknowledges seniors Brett Hileman, Owen Jaegers, Vincent Pellegrini, John Eatherton, Michael Richino, and Nick Laudenberger. Michael Richino plays a key role at defensive end, and Nick Laudenberger plays well on both offense and defense. 
As far as the team last year, many of those boys played together for years in QMFA. Banas describes how he was able to coach a team like that differently. He could teach a different level of the game. The football team is now trying to rebuild to that stage again, and thanks to a bunch of guys stepping up, in a few years, the Quakertown football team might be undefeated again! Rebuilding means each and every one of the players are putting in their best effort to get better. They are competitive in practice and games to get better individually and as a team. 
No matter the outcome of the games, everyone still has fun. The themes, participation of the student body, chants, smiles, and laughs are all that make football games fun! Of course, a win on our side adds to the success, but either way, most people have a good time! On Friday, 9/30, Quakertown is matching up against Souderton. Go to the game and wear black and gold in support of childhood cancer!