Halloween in Quakertown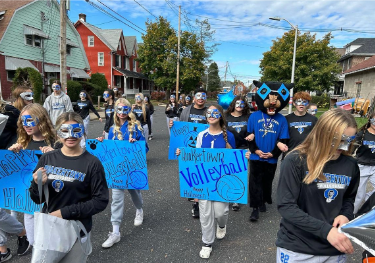 If you follow Halloween's past, you can trace it back to two-thousand years ago with the ancient Celtic festival of Samhain. The Celtic people were from Ireland, the United Kingdom, and Northern France. For the Celtics, Halloween was the night of their New Year which was November 1st. For them, it was the start of the year that they associated with human death since winter was on its way. By the 9th century, Christianity spread into Celtic land and changed the Celtic holiday to a church-sanctioned holiday, which fell on November 2nd and was called All Souls' Day. They held parades and dressed up in costumes as saints, angels, and devils. In the 1840s, Halloween came to America from immigrants, and by the 19th century, autumn festivals were common in the United States. While trick-or-treating came about in the late 1800s, it was a community gathering that was about witchcraft, ghosts, and pranks. In the 1920s to 1950s neighborhood's would give out candy as a way for the kids of the community to stop pranks. Now, trick-or-treating has become a tradition for Halloween and has become the second-largest commercial holiday. 
Quakertown had a Fall Festival on Saturday, October 8 2022, which included trunk or treating, games ran by volunteers, and a hayride. The event had thirty-three sponsors and twenty-nine trunk-or-treat participants. All the trunks advertised their company or club and had a theme to them. Such as Jurassic Park, Minions, Scooby Doo, and Monsters University.
Throughout the festival, there were many kids dressed in Halloween costumes. Many participated in costume and donut eating contests that were separated by age group. Many children enjoyed the bounce houses, face painting, and petting zoo. The petting zoo consisted of goats, bunnies, pigs, and ducks. 
Another event Quakertown offers is the Halloween Parade, which took place on Sunday,  October 16 2022 from 2-3 pm. It was held in the center of Quakertown while the residents of Quakertown lined the streets in their Halloween costumes, catching candy and enjoying the live music. Spectators were also able to buy candy, food, and drinks from the fire station that was within the parade route. Many groups were walking, dancing, and passing out candy in the parade. The groups included were the QCHS Football Team, Quakertown K.I.D.S. Camp, Panther Marching Band along with the color guard, and the QCHS Volleyball Team.
Each group had its own themes such as Beach and Hawaiian. There were also three dance companies dancing throughout the parade, Dance Works, Power and Grace, and Miss Cindy's School of Dance.
Ultimately, For many centuries people have been celebrating Halloween in different ways based on different religions. Halloween has gone through many stages throughout the years to get where it is today. Most Americans celebrate Halloween by festivals, parades, pumpkin picking, and trick or treating along with many other modern traditions.