Quakertown's November Celebrations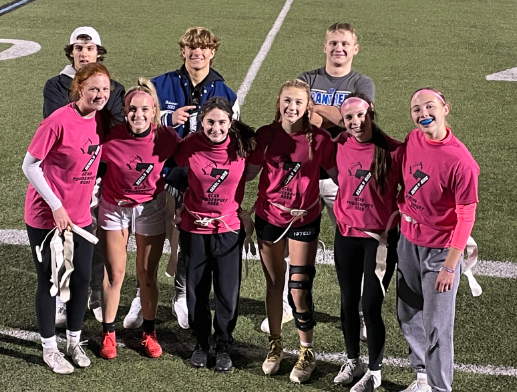 November is here and coming to an end quickly! November is full of many events at Quakertown High School, including the Homecoming dance, Powderpuff, the pep rally, the Quakertown vs Pennridge Football Game, and, of course, Thanksgiving. 
The theme of this year's homecoming dance was Under the Stars. This year's music was said by many students at Quakertown High School to be much better than last year's. Better music made dancing and the overall night more enjoyable. Furthermore, homecoming was well organized. There was room to sit at tables with your friends, a photo booth, and water and snacks available for everyone. The dance floor, located in the lower gym, was accompanied by loud music as well as plenty of space for all the students to dance. Around the middle of the night, the homecoming court was announced and each person walked down the aisle while all the students cheered on the side. This year's court included: Julie Pizzi, Katelyn Derstine, Aspyn Braun, Rachel Szabo, Mya Hibsman, Dominic Basile, Tyler Wilkin, Bryce Widdoss, Jacob Wackerman, and Daniel Juszynski.
Each year, Quakertown holds a Powderpuff tournament in which junior and senior girls get together and form flag football teams. This year, all the money raised for Powderpuff from coaches, players, and spectators went to the Susan G Komen Foundation– a breast cancer organization. A bracket, made by Mr. Pallone, demonstrated each team's games including their bye game. The turf was split into three small fields, each 55 yards wide, where 6 teams played in total with one team sitting out for their bye– scheduled game off for a break. Each game was ten minutes long. The final two teams play each other in a championship game. This year, team Aces played team 7 Deadly Sins in the 10-minute-long championship game. The game ended in a tie with both teams having one touchdown. The championship game then went into overtime and after four rounds of overtime, the 7 Deadly Sins (Mya Hibsman, Angela Calvanese, Kelly Kreuz, Maddie Kalinowski, Jordana Jagiello, Mackenna Calabria, and Callie Abel) took the trophy home! 
On November 22, 2022, this year's pep rally will take place in the lower gym. The theme is Spongebob. Seniors will wear yellow as Spongebob, juniors will wear pink for Patrick, sophomores will wear gray for Sandy, freshmen will wear blue for Squidward, and teachers will wear red for Mr. Krabs. The pep rally serves many purposes: it gathers people together, encourages school spirit, gets students hyped for the upcoming game, and marks events such as the beginning/end of the year or before the Thanksgiving day football game. Activities at the pep rally include the traditional hype-up video, music/band songs, dance performances, games/competitions, and crowd participation. Be sure to show up in your specified color ready to participate, compete, and laugh!
Lastly, Thanksgiving is creeping up quickly. Make sure you come out in your blue to support the Quakertown football team on Thanksgiving morning! Bring your loud voices and smiles for when we beat our rivals- Pennridge! Additionally, the homecoming King and Queen will be announced before the start of the game. Voting begins on Monday, November 20th, so be sure to cast your vote and have a voice!