Meet Frank Parker, Band Director
Carroll, Staff Writer
September 27, 2019
Mr. Parker is the band director of the concert and Panther Marching Band here at Quakertown Community High School. Originally, Mr. Parker was actually a business major through his freshman and half of his sophomore year in college.
During that time, he was playing in the college band and teaching private lessons. Due to this fact and having a passion for music, he changed his major to music performance. He graduated from Moravian College with his bachelors in Music Performance. He played many gigs, from weddings to cafes to clubs. In between all of that, he still taught private lessons. He eventually decided he wanted to teach music and returned to college.
He went to Wilkes for his masters, and went to Villanova, University of Miami, University of Arts, and West Chester for graduate courses. He has held his current position here at the high school for 16 years. Prior to the high school, Mr. Parker taught at Broughal Middle School, Fountain Hill Elementary, Southern Lehigh Middle School, Donegan Elementary, Neidig Elementary, Quakertown Elementary, Pfaff Elementary, and Milford Middle School.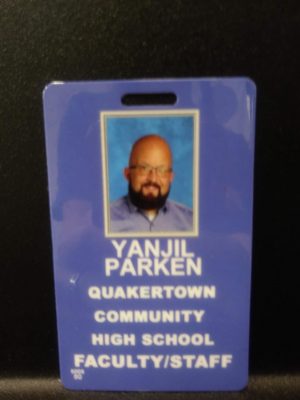 "Why anyone practices and plays music or sings is because of the enjoyment of the music," Parker said. "So in my job I get to completely enjoy that while passing that on to others and teaching others about it and hopefully instilling a love of music in them as well, so it's the best of both worlds for me."
About the Writer
Carroll, Staff Writer
Carroll Donnelly is a senior at Quakertown Community High School. Carroll is a music, art, and writing student. She enjoys going to concerts, going hiking,...